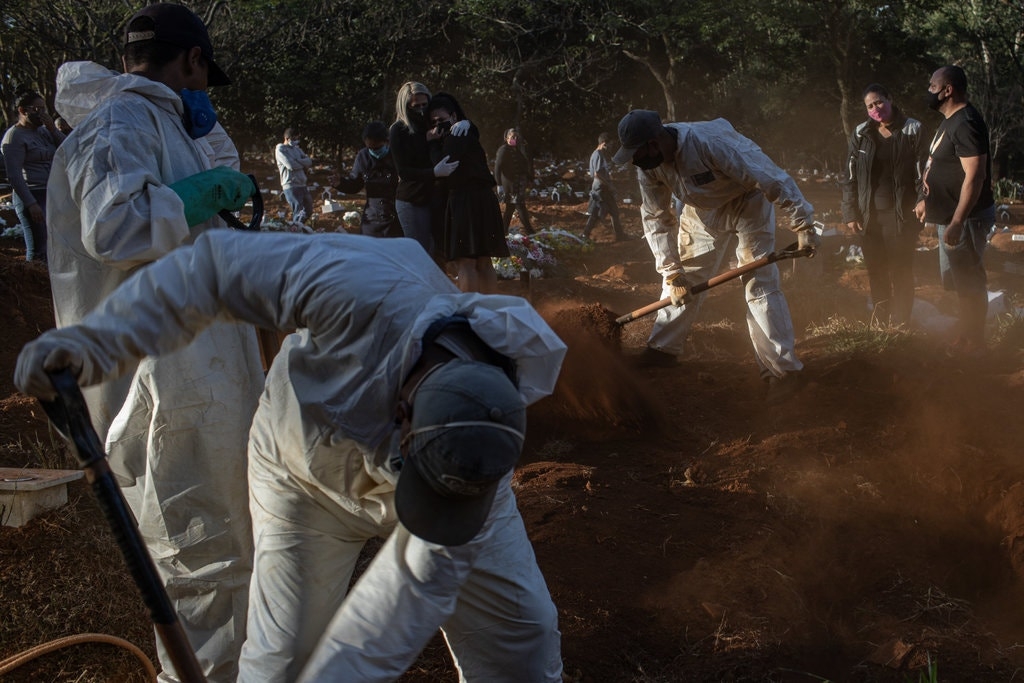 Hospitals are on the brink of collapse, cemeteries are burying people in mass graves, and still, we refuse to take this virus seriously
The New York Times
Jun. 8, 2020
by Vanessa Barbara
Contributing Opinion Op-ed Writer
SÃO PAULO, Brazil — It's been almost three months since my toddler left the apartment. We've been enduring as best as we can: We spend countless afternoons at the balcony watching the street and counting red cars; we open and close all the curtains; we pile up boxes of paper tissues and make mountains; we invent stories about our neighbors based on the smells of their cooking. Recently, she has started to play with her own shadow. This was a wise move, since both of her parents are exhausted.
Quarantining with a 2-year-old is a draining job. On top of that, my husband and I are both still working remotely — he is a tax inspector for city hall — even as we cook and clean and disinfect the doorknobs. Day after day, we try to stay strong. But while many of us are making sacrifices, there are others who couldn't care less.
In the city of São Paulo, according to mobile location data, a little less than half the population is complying with social-distancing measures. It is true that some have no choice but to keep commuting to their jobs, as underpaid freelancers, essential workers or merely exploited employees. But many are simply counting on their immune system's superpowers, denying the severity of the pandemic, or free-riding off the efforts of the rest of us.
Every afternoon I can see from my window a group of men chatting on the sidewalk and drinking beer, as if this were all a joyous vacation. The other day I went to the drugstore to pick up a prescription and saw a group of three women lingering over the nail polish — mask-free, of course. I recently heard about someone who had just decided to resume his Pilates classes, as though his health is more important than everybody else's.
Late last month, Brazil passed a milestone: Our daily death toll has now surpassed that of the United States. We have a contagion rate that ensures more deaths are coming. We have had more than690,000 diagnosed cases of coronavirus and 36,000 deaths, and yet, the actual numbers are probably much higher — we've had such limited testing that we just don't know. In other parts of the world, the growth curve for infections is flattening out or falling; here, it is actually spiking. Hospitals are on the brink of collapse; so are morgues and cemeteries. In the Amazonian city of Manaus, deaths have soared so much that the main cemetery has begun burying five coffins at a time in shared graves.
Given the grimness of our statistics, one might reasonably expect that the population would start strictly adhering to health and safety protocols. But this is not happening. As the cases spread, so does the contempt of certain people in the streets for social-distancing measures. And it's easy to pinpoint one of the main reasons for this contempt: our president.
Since the beginning of the pandemic, Jair Bolsonaro has shown disdain for everything that doesn't suit his personal agenda — especially if it's fact-based news or scientific recommendations. He said in the past that Covid-19 is a "measly cold" and that people would soon see that they'd been "tricked" by governors and media when it came to the outbreak. On April 12, when more than a thousand Brazilians had already died, he proclaimed that "the matter of the virus" was "starting to go away." When this proved to be wrong, he spent his days fighting against state and municipal shutdowns, deeming them economically disastrous for the country.
He fired our health minister, Luiz Henrique Mandetta, for supporting the isolation measures while resisting Mr. Bolsonaro's attempts to promote chloroquine and hydroxychloroquine as treatments for Covid-19. Along the way, the president has continued to attend pro-government street rallies, shaking the hands of his supporters and drawing large crowds just to appease his ego.
On April 23, Brazil registered more than 3,300 deaths. Asked about the rising toll, the president replied: "I'm not a gravedigger." Five days — and more than 1,700 deaths — later, he said: "So what? I'm sorry. What do you want me to do?"
On the day Brazil reached 11,653 deaths, Mr. Bolsonaro issued an executive order classifying gyms, barbershops and beauty salons as essential businesses that could reopen. (Finally! Those women at the drugstore can get a decent manicure!) A few days later, the new health minister, Nelson Teich, resigned from his post, after less than a month on the job. The interim minister is an active-duty army general who has no experience in public health and immediately appointed nine other army officers to the ministry.
In the end, Mr. Bolsonaro is exactly like those fools, chatting idly on the sidewalk as doctors struggle to manage an influx of patients at already overcrowded hospitals. Those who follow him are choosing nail polish colors while many of us gasp for air. They are not only taking advantage of other people's sacrifices — they are also rendering our efforts almost pointless.
Perhaps such blatant incompetence in dealing with the outbreak, combined with the various corruption investigations around Mr. Bolsonaro right now, will have political consequences for him, finally. (In the midst of the pandemic, he's been accused of interfering in investigations by the federal police, in order to shield his sons.) Indeed, some have made this argument. But I'm not that optimistic.
Mr. Bolsonaro's approval rating may be low — around 30 percent — but his radical base, which includes the agricultural caucus, the military and evangelicals, is still behind him, fueled by bigotry and fake news. The government has also managed to forge an alliance with the powerful centrist bloc in Congress, obtaining its support in return for political favors.
So I wouldn't count on any changes soon. We're just at the beginning of a long, painful, hopeless quarantine.
---
Vanessa Barbara is the editor of the literary website A Hortaliça, the author of two novels and two nonfiction books in Portuguese, and a contributing opinion writer.