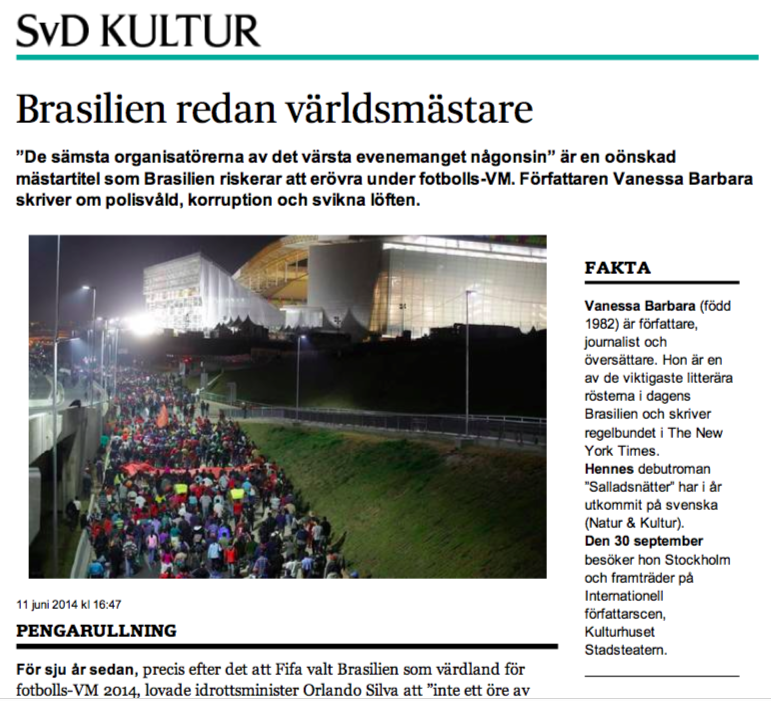 Svenska Dagbladet (Sweden)
June 11, 2014
Text in Swedish:
http://www.svd.se/kultur/brasilien-redan-varldsmastare_3649296.svd
Translation: Clemens Poellinger
by Vanessa Barbara
Seven years ago, right after Brazil was chosen as host for the 2014 FIFA World Cup, the Minister of Sport Orlando Silva promised that "not a single cent of public funds" would be spent building or reforming stadiums. "All money will come from private sources", he said.
Today, nearly a month from the event, almost 97% of the investment in the twelve stadiums has come from taxpayer's money. And that's including the three private arenas.
The next FIFA World Cup will cost around $12 billion to Brazil, of which 85,5 percent from public funds, either provided by city or state budgets, federal financing, or tax exemptions. The expenditure on stadiums corresponds to $4bn of the total bill.
Eight years ago, in Germany, sports venues had cost $2.2bn, but clubs and private investors financed 60 percent of the total. Later, in South Africa, the building and upgrading of stadiums had amounted to $2,7bn, mostly from public sources. What the African country had spent to host the event was close to 25 percent of its annual education budget, a figure we'll see topped in Brazil, where total funds will be equivalent to 27 percent of the national education budget.
Officially one-third of the total bill has been invested in infrastructure projects, such as urban mobility solutions for the host cities. In São Paulo, according to the Responsibilities Matrix issued by the federal government, $250 million have been used to improve the roadways around the stadium. And that's all. Nothing was invested in our overcrowded subway system or in bus corridors. The old project of a monorail connecting the city airport to the subway was abandoned due to the slow pace of work, after successive delays.
Last year, fourteen projects on urban mobility were cut from the World Cup budget, most of them monorails, light rails and bus corridors. The city of Manaus, Amazonas' capital, for instance, was left without any investments in that field. The remaining projects are restricted to the stadium's vicinities – in other words, the important now is to guarantee access to the arenas, not to improve general urban mobility.
And there goes roughly one-third of the $12bn. Of the remaining funds, 30 percent were allocated to improvements in airports, and 7 percent to security measures (as I said earlier, another 30 percent was employed in stadiums). Private investments concentrated in the airports, while local governments were fully responsible for telecommunications ($182mi) and security ($860mi). The official budget is constantly being updated and keeps growing, to the point that a German consultant confessed to a British magazine: "Money clearly is not an issue in Brazil. I don't know where they get it from, but they are spending an incredible amount of money on the World Cup."
And yet, most of the work is far from being done.
Our most expensive stadium, Mané Garrincha, located at the nation's capital, Brasília, has cost $720mi. It was entirely built using the city's taxpayer's money, at a rate of $8,307 per seat. Less than eight months after its opening, it had a leaking roof. Employers had to mop up the floor during an official Confederations Cup match. Recently, the Court of Auditors of the Federal District found evidence of $185mi in over billing, which is still being investigated. The auditing revealed a lot of irregularities in the venue's construction, such as improper purchases of equipment, serious shipping miscalculations, plus allowances for late delivery penalties and a delayed request for tax exemptions.
Likewise, the project of a light rail system in Brasília was cut due to alleged irregularities in the bidding process. (It is suspected that there has been a transfer of funds between the two main competitors in the tender.)
And there's more: last year, after a public scandal, Brasília's government had to cancel the bidding for the purchase of 17,000 raincoats, which would be distributed to the police – the total budget was $2,3mi. The price of each raincoat: $140. In a rather Marxist move (Groucho's, not Karl's), they even tried to convince the public of the product's fine quality: "These raincoats, equipped with reflective high-performance strips of material, were labeled Safety Apparel with High Visibility, intended for traffic police and traffic aids", they said. Nobody fell for it. Possibly because the tournament will be played in the dry season.
**
Last January, the president of FIFA, Joseph Blatter, said Brazil was further behind in their arrangements for the World Cup than any previous host nation, even though it had seven years to prepare. In March, FIFA's secretary-general Jérôme Valcke implied we could be "the worst organizers of the worst event ever".
I agree: until now, eight workers have died building the venues. According to the National Coordination of World Cup Popular Committees, a total of 250,000 people are threatened or have been forcibly removed from their homes to make way for the soccer mega-event. These evictions have been often marked by police brutality and disrespect for human rights.
Not that we would expect otherwise. After all, we live in a country where children of all ages know the meaning of "bid-rigging", "slush-fund", "tax evasion", "extortion", and "corruption". Just the other day, my 4-year-old nephew was playing with his building blocks in the living room and asked me what was the meaning of "overpriced stadium". Together we've enacted a collapse caused by poor construction materials and sloppy planning.
Those who speak up against excessive spending, forced evictions, police violence, corruption and inequality don't have much resonance. Even though demonstrations are getting bigger, the government is waving with police repression, fearing that someone would spoil that billionaire party. Even pacific demonstrators have been treated as terrorists, and the government has settled on the use of the Army to ensure public security during the World Cup.
In the meantime, soccer fans struggle to buy their tickets, which are pricy and scarce. A friend of mine got one only for South Korea vs. Belgium (the least desired of the games occurring in São Paulo), and I managed to buy three for matches being held at locations as far as 1,000 kilometers from home. Each ticket has cost me an average of $170, which is half our monthly minimum wage. It's virtually impossible to get tickets for Brazil's matches.
As far as I'm concerned, we're already champions of the worst World Cup ever.

Imprimir