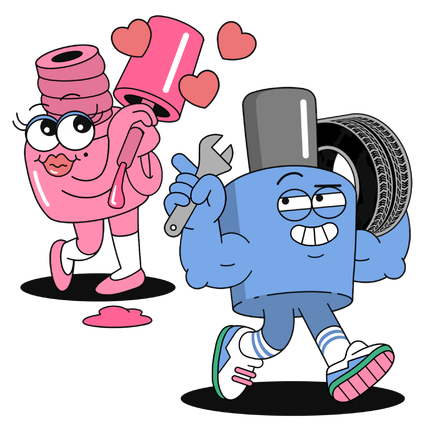 The New York Times
November 24th, 2016
by Vanessa Barbara
Contributing Op-Ed Writer
SÃO PAULO, Brazil — I've never really understood the point of meticulously painting your nails, but even so, I'm surprised by how hard cosmetic companies work to make it sound interesting. From Russia to Brazil, many women have faced tough choices between colors like "Rose Petal," "Wedding Pearl" and "Pink Champagne."
Creatively naming products is a crucial part of the nail polish industry. Instead of introducing a new color and calling it by its Pantone or hexadecimal code — "Could you pass me that bottle of #FF001E, please?" — companies baptize each shade with a poetic epithet, like "Dark Cherry," "Coral Sunset," "Evening Sand" or "Coney Island Cotton Candy." So far, pretty harmless.
However, in my imaginary history of cosmetics, the companies quickly exhausted their lists of common objects with discernible colors, opening the way for a symbolist phase: "Fiji Weejee Fawn," "Seychelles Seashells," "Moon Over Mumbai," or "Up the Amazon Without a Paddle," a pink with coral and orange undertones that doesn't make any sense for a South American. (Although it's far better than OPI's "Kiss Me, I'm Brazilian," which is insulting.)
This exotic nonsense was the beginning of a descent to the darkest shades of sexism and misogyny that we see nowadays on the display racks of the nail salon.
Eventually, a visionary must have introduced the infamous puns, now a trademark of nail polishes: "Miami Beet," "Hotter Than You Pink," "Baby, It's Coal Outside!," "I Have a Herring Problem" (a dusty steel blue with a hint of sparkle) and "But of Corpse" (a green metallic base with a golden shimmer that doesn't remind me, at least, of a dead body). Others veered toward nonsense: There is a red shade called "Snow White," and a green one named "I Only Eat Salads." I also found a bright purple with gold shimmer called "Are Mermaids Real?"
But later they abandoned the need to be cute. Instead of choosing "Eternal Optimist," I'd prefer to paint my nails with "Shattered Souls," "Gone Grey" or "Today I Accomplished Zero" — at least they're honest. Three other depressive colors that perfectly match my soul are Spoiled's "My Button Fell Off," OPI's "So Many Clowns … So Little Time" and Smith & Cult's "Bitter Buddhist." And that, in my opinion, should be enough when it comes to nail polish creativity.
But nothing could restrain the enthusiasm of the nail polish namers, who recently decided to take a more dangerous route. It began with raunchier epithets such as "Phallic," "Second Base," "Between the Sheets" and "Orgasm." Then it quickly escalated to Naughty Nailz's XXX collection, which includes "Creamy Climax Dream" and a host of others, too naughty to print.
What those new names seem to imply is that there's only one reason for a woman to paint her nails: grabbing the attention of a good, handsome man — maybe even a millionaire. That's how we arrived in our glittery golden age of misogynist nail polish names that are not only silly, but also reinforce sexist stereotypes.
Sephora by OPI is offering a whole collection that I personally call "Chauvinist Shades of Winter." It includes an orange-red color called "Lost Without My GPS" and a deep black one named "What's a Tire Jack?" It was also responsible for the outrageously catastrophic "Domestic Goddess," "Iris I Was Thinner," "How Many Carats," "I'm With Brad" and "Never Enough Shoes."
But they are not alone: The brand Essie has started "No Pre-Nup," "Where's My Chauffeur," "Trophy Wife" and "Show Me the Ring." China Glaze has released "Man Hunt," "Limbo Bimbo" and "Marry a Millionaire." Deborah Lippmann has "Before He Cheats." Color Club makes "It's Raining Men." One of OPI's most popular colors is a shade of red that they have called "I'm Not Really a Waitress." And Spoiled has a nail polish named "Daddy's Credit Card."
Last year, one of the top-selling nail polish brands in Brazil decided to contribute to the anti-feminist global movement in nail polish names. The collection is called "Homens Que Amamos" (Men We Love), and it's distasteful enough to compete with the world's most famous brands: It celebrates the great deeds of our heroic husbands and boyfriends. There's a bright orange shade called "André Has Made Our Dinner," a purple one named "Leo Has Sent Me Flowers," a dark gray one called "Zeca Has Asked Me Out" and a silver one named "Guto Has Proposed to Me!!" (with two exclamation points). The collection's slogan is: "The No. 1 topic of our conversations," which is, of course, men, "in six colors that will set tongues wagging."
After decades of research, nail polish designers have apparently come to this 19th-century conclusion: Women are vain, daydreaming creatures with a weak sense of humor and no ability to perceive that they're being manipulated. Our life is entirely devoted to men. We need to hold a guy so desperately that we put all of our efforts in one pricey bottle of a sparkling magic potion that our manicurist applies while casting a voodoo love spell. If we choose "Romantically Involved" or "Happy Ending," instead of a mere "Orange Orange," maybe we'll get lucky tonight.
In the spirit of giving, my friends have promptly brought in other suggestions of names for the Men We Love collection. For the next season, the brand could go with "Carlos Has Washed His Own Underwear, Hallelujah," "Pedro Has Recognized His Child," "Lucio Has Paid His Alimony" and, last but not least, "João Didn't Hit Me Today (and I Surely Deserved It)."
---

Imprimir