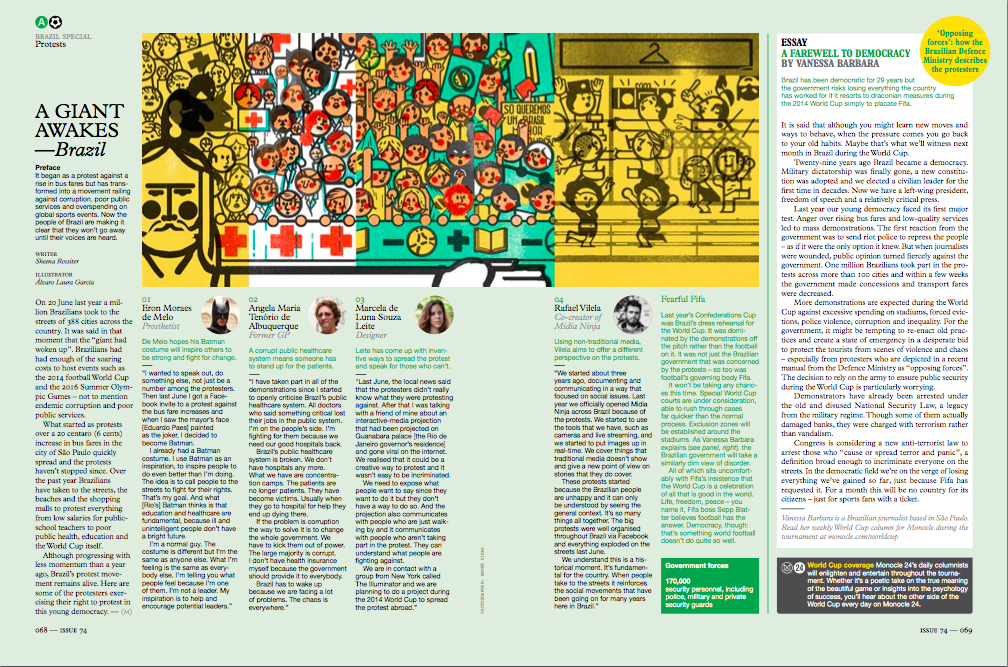 Monocle Magazine
N. 74 – June 2014
Brazil has been democratic for 29 years but the government risks losing everything the country has worked for if it resorts to draconian measures during the 2014 World Cup simply to placate Fifa. 
by Vanessa Barbara
It is said that although you might learn new moves and ways to behave, when the pressure comes you go back to your old habits. Maybe that's what we'll witness next month in Brazil during the World Cup.
Twenty-nine years ago Brazil became a democracy. Military dictatorship was finally gone, a new constitution was adopted and we elected a civilian leader for the first time in decades. Now we have a left-wing president, freedom of speech and a relatively critical press.
Last year our young democracy faced its first major test. Anger over rising bus fares and low-quality services led to mass demonstrations. The first reaction from the government was to send riot police to repress the people – as if it were the only option it knew. But when journalists were wounded, public opinion turned fiercely against the government. One million Brazilians took part in the protests across more than 100 cities and within a few weeks the government made concessions and transport fares were decreased.
More demonstrations are expected during the World Cup against excessive spending on stadiums, forced evic- tions, police violence, corruption and inequality. For the government, it might be tempting to re-enact old practices and create a state of emergency in a desperate bid to protect the tourists from scenes of violence and chaos – especially from protesters who are depicted in a recent manual from the Defence Ministry as "opposing forces". The decision to rely on the army to ensure public security during theWorld Cup is particularly worrying.
Demonstrators have already been arrested under the old and disused National Security Law, a legacy from the military regime. Though some of them actually damaged banks, they were charged with terrorism rather than vandalism.
Congress is considering a new anti-terrorist law to arrest those who "cause or spread terror and panic", a definition broad enough to incriminate everyone on the streets. In the democratic field we're on the verge of losing everything we've gained so far, just because Fifa has requested it.
For a month this will be no country for its citizens – just for sports fans with a ticket.
---
Vanessa Barbara is a Brazilian journalist based in São Paulo. Read her weekly World Cup column for Monocle during the tournament at monocle.com/worldcup 

Imprimir